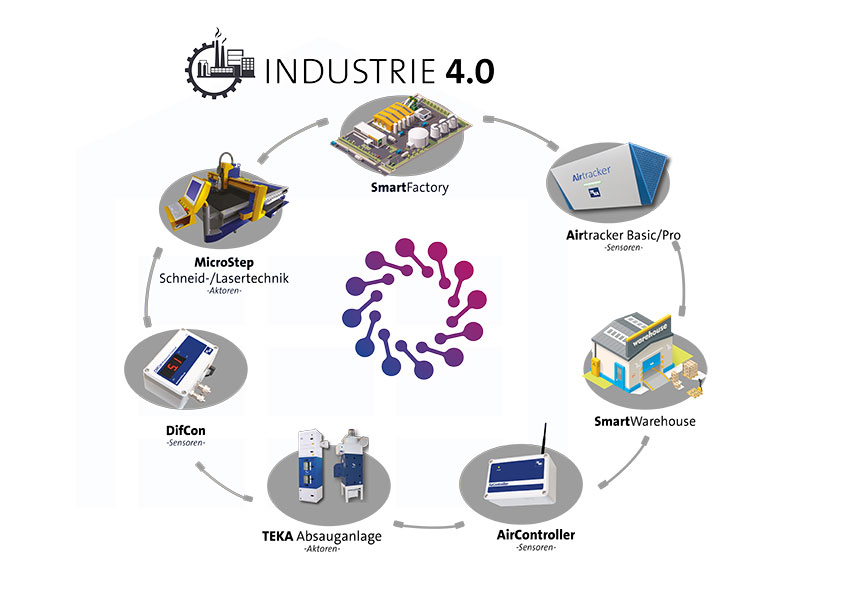 Industry 4.0 refers to the dovetailing of industrial production with state-of-the-art information and communication technology.

This development is the increasing digitalization of economy and society, smartphone, tablet, internet, smart home. It will have a lasting impact on the way people will produce and work in Germany in the future.

Smart Factories is the future, says Erwin Telöken, Managing Director of TEKA GmbH. The technical basis for this is intelligent, digitally networked systems that will enable largely self-organized production. People, machines, systems and products communicate with each other.

Production and logistics processes between companies in the same process are intelligently networked to make production even more efficient, flexible and healthy.
If all information is available in real time, a company can react e.g. early on the availability of certain spare parts, missing parts, as well as malfunctions etc.
By using the TEKA sensors -AirTracker-DifCon series and the actuators of the EcoCube and FilterCube series, production processes can be controlled across companies by networking e.g. MicroStep cutting laser systems in such a way that resources and energy are saved, Telöken says.
Intelligent sensors/actuators help manage the errors that occur in all companies and cannot be completely avoided. All in all, intelligent networking can increase the efficiency of production, strengthen competitiveness and increase production flexibility.
TEKA - Industry 4.0 - The future is TODAY